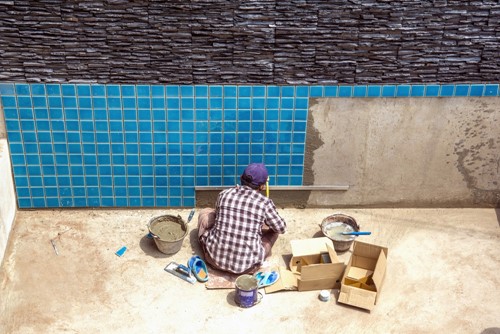 Photo by oneSHUTTER oneMEMORY via Shutterstock
When it comes to home improvement, renovations, upgrades and expansions, seek the assistance of a professional. Why do you need a pro? Unless you built your home yourself, you might not understand all the factors that combine to engineer a house such as the electrical needs to support the load and the cubic footage the HVAC must handle. Get one of these wrong, and your home becomes less efficient. In the end, that can end up costing you more than hiring the pro in the first place.
Here are some areas a professional touch improves the project exponentially.
Adding a Room
When creating an addition to your home, there's more to it than building out the footprint and then connecting it. To pass code inspections, your addition needs to tie into all the systems in your home, including plumbing, electrical and HVAC. You want a contractor to oversee the addition, even if you complete some of the work. If the inspector doesn't approve it, it's on the contractor to fix it. On top of that, you want the addition to tie into the existing architecture. How often have you passed over a home for sale because of an ugly or obtrusive addition? For most people, the eye seeks symmetry and balance. Just because you have the space to add it doesn't mean the addition adds value. Employ a designer or architect to draw out your proposed addition and suggest adjustments to help it blend in with the existing home. This includes remaining true to the existing roof slopes even if it costs more to build. When you go to sell, a properly incorporated extension adds value and improves salability over an expedient but less artistic change.
Installing a Pool
While adding a pool doesn't always increase a home's resale value, a poorly installed pool detracts from it. If the buyer believes they'll have to tear out the pool to replace it, or fill it up to hide it, the prospect might scare them out of making an offer. When you install a pool, hot tub, pergola, outdoor kitchen or other exterior entertainment feature, visual appeal is everything. Even a buyer that didn't think they wanted a pool might fall in love with a professionally installed pool nestled among the landscaping that offers the perfect outdoor entertainment venue.
Attaching a Garage
Many older homes have no garage or a detached garage that makes them less attractive to some buyers. That makes adding an attached garage an ideal improvement. But just like adding a room, when you attach any structure to the exterior, it needs to keep the same aesthetic as the original building. Throwing up a garage, covered patio or carport needs to follow the same design rules as adding a bedroom or family room. Hire a professional to design the add-on and engineer the roofline to match.
When you put your home up for sale, hire a professional as well. Your real estate professional knows the local market and will professionally market your home. For a consultation, reach out today.