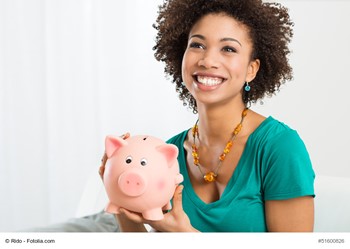 It can be difficult to find the extra savings to put towards your first home as a renter. With rent and utility prices rising, most people's paychecks are leaving them with less and less savings at the end of the month.
Buying your first home, however, can be a great long-term financial decision. It will help you build equity, and, eventually, you'll be able to use that equity toward another home or toward retiring.
In today's post, we'll talk about some of the ways to save for a down payment while renting an apartment.
How much to save
In order to make the most of your first home purchase, you'll want to save up as much of a down payment as possible. This will help you receive the lowest interest rate and reduce the amount you'll pay toward interest.
If you can manage to save 20% of the loan, you'll also be able to waive private mortgage insurance (PMI), that would otherwise set you back around $100 per month or more.
Smart ways to save while renting
If you're ready to get serious about saving for your first down payment, let's talk about the best way to approach your savings plan.
Pay off small debts
If you've had that lingering credit card debt that you've never quite paid off, now is the time. Take a look at your current debts. Pay off the smaller balances first and focus on debt with the highest interest rate.
This will enable you to start making larger deposits toward your down payment savings sooner and can help you avoid needlessly paying interest on small loans and credit card debt.
Open a dedicated account or CD
The best way to make sure you contribute to your down payment savings plan is to open a savings account or take out a CD (certificate of deposit).
A savings account with a high-interest return is a good option for people who are worried that they may need to access their funds before they're ready to buy a home.
If you're comfortable with not being able to access your funds until a set date, then a CD could help you save more money.
Since CDs are a one-time payment, many people choose to combine both CDs and high-interest savings accounts to achieve their savings goals.
Regardless of which option you choose, be sure to shop around for the highest interest rate. Online banks tend to have higher rates than traditional banks and are also easy to sign up for.
Direct deposit a portion of your pay
Opening a bank account or CD won't do you any good if you don't commit to contributing to it. If you are paid via direct deposit, visit your HR office and ask them to reassign a portion of your weekly pay to your new account.
By following these tips, you'll be able to better prepare for your down payment. Don't wait! The sooner you start saving, the sooner you'll be able to purchase your first home.